–15%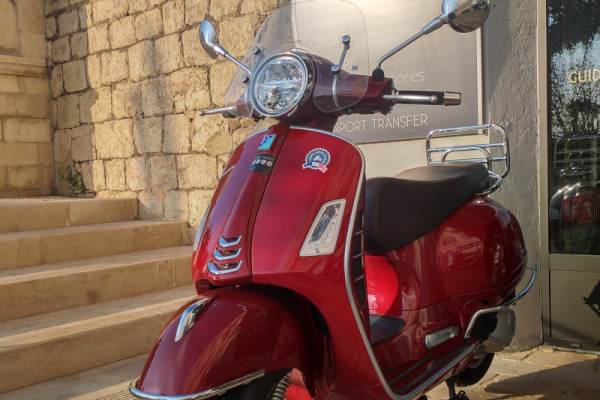 Louez la Vespa GTS 300 c'est vivre la Dolce Vita avec style ! Idéal pour vos déplacements urbains, découvrez Cannes avec style au guidon de la Vespa GTS 300, véritable mythe du 2 roues italien.
Casques et Gants inclus
Antivol
Kilomètrage illimité
Compris

2 Casques + Gants

Assurance au tiers

Antivol

Forfait kilométrique : 150

Non compris

Carburant

Assurance vol et dommage

À prendre avec soi

Carte de Crédit pour caution

Langues parlées
Anglais, Francais
Prérequis

Permis Moto
4 Évaluations
Good, but...
I hired a Vespa for a day, the scooter was almost new and thus in excellent condition. The handover was smooth and the shop assistant helpful. Although the booking system let me book the vehicle pickup at 9am on Sunday, it turned out they only open at 9:30. Also I discovered at the shop that scooter hires have a daily allowance of just 150km - rather limited - and this information was only provided on the French version of their website, no mention of it in the English one. The 2,000€ deposit is pretty high. The helmet they gave me had no visor, which isn't very comfortable, but I didn't ask if they had any available with it.
de Marco Bagarella à 19/10/2019
My favorite place to rent in Cannes!
Great quality vehicles and good service. Excellent location right near the marina!
de Ben Ramirez à 10/07/2019
Scooting around Cannes
My wife and I were very happy with our Vespa 300 that we rented for two days. I booked online weeks before and the rental was very smooth. The bike was very new and was a dream to drive. I drive a 300 at home and this is the new and improved edition. Checking in and out was without incident. Of course it goes without saying you must have a valid motorcycle license. I only wish I could have rented for more days. The ride down the coast toward St Tropez was a real sight not soon to be forgotten and the ride up to Antibes was fun as well. There is so much to see in and around Cannes and no better way to see it than on two wheels. I highly recommend this outfit for renting a scooter.
de Michael Riggs à 21/06/2019
mieux s'informermieux réservermieux voyager
Avis TripAdvisor
83 Évaluations